Vol. VI, Issue 1/2018 – Full text download.
Appropriate statistical model for zero-inflated count data: simulation based study
Ayan Chowdhury, Soma Chowdhury Biswas
Assessing the Reliability and Validity of Online Tax System Determinants: Using A Confirmatory Factor Analysis
Bojuwon Mustapha
Structural breaks in potential GDP for romanian economy
Dorin Jula, Nicoleta Jula
The link between international trade flows of "Machinery and transport equipment" and foreign direct investment in Romania
Florentina Viorica Gheorghe, Artur – Emilian Simion
The relationship between product match-up in advertisement and consumers' purchase intention of personal care products
Mark Dirikorigha Salvation
The role of social media marketing and product involvement on consumers' purchase intentions of smartphones
Mark Dirikorigha Salvation, Shahryar Sorooshian
Forecasting the Trend of Art Market
Mihaela-Eugenia Vasilache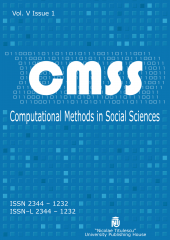 _____________________

This work is licensed under a Creative Commons Attribution-ShareAlike 3.0 Unported License.