Vol. V, Issue 1/2017 – Full text download.
Macroeconomic determinants of migration from Romania to Italy
Mihaela Simionescu
On macroeconomic values investigation using fuzzy linear regression analysis
Richard Pospíšil, Miroslav Pokorný, Jarmila Koudelková
Credit Risk Management and Interest Income of Banks in Nigeria
Fapetu, Oladapo, Seyingbo, Oluwagbenga Abayomi & Owoeye, Segun Daniel
The Phillips Curve for the Romanian Economy, 1992-2017
Dorin Jula, Nicoleta Jula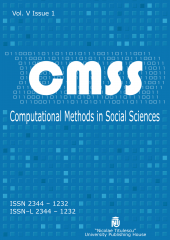 _____________________

This work is licensed under a Creative Commons Attribution-ShareAlike 3.0 Unported License.